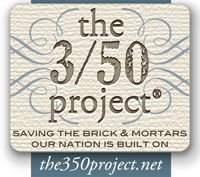 A friend of mine found this great website,
The 3/50 Project
, that offers terrific ideas for stimulating your local economy. The basic premise is to choose 3 different local, independently owned businesses each month to spend $50 total at. If even half o
f the employed population participated, it would generate over 46.2 billion dollars in revenue, according to the
website.
One business that I would like to feature and encourage others to support is the
Doylestown Bookshop.
The Doylestown bookshop is quirky and unique unlike "box" bookstores. My favorite part of the bookshop is the aisle that features the favorite books of the store employees. There is always a wide range of books to choose from in this aisle, everything from the classics to NY Times Bestsellers. The bookstore is constantly giving back to the community by hosting book signings by local authors to holding free meetings and parties.
Another local business that I'd like to feature this month is:
La Maison Cheese
51 W State St
Doylestown, PA 18901
(215) 348-7543
They don't have a website, as far as I know, but they do have the best croissants on earth. Heavenly, melt-in-your-mouth buttery croissants with either sweet or savory fillings. Of course, you have to get there early to have the best selection and they do sell out regularly before noon. La Maison Cheese also offers the obvious, cheese. I can't really review the cheese, though, because I go there for the croissants. The store also sells French kitchen items such as platters and tablecloths.
The third business I'd like to feature this month is
Chalfont Hardware
. It is a family owned and operated business. Unlike large home improvement store chains, the owners of Chalfont Hardware offer personal and knowledgeable assistance. I can get in and out of this store quickly, even if I need assistance, which is something I can't say about those larger stores. Currently, the hardware store is undergoing renovations, but they are still open for business.